Olympic Games £2 Coins
Over 100 years ago, the Games of the IV Olympiad came to London and on the 100th anniversary The Royal Mint created a £2 coin to mark this milestone ahead of the games returning to London in 2012.
The first Olympic based two pound coin design shows 4 lanes of a track with the year 1908 across the track and the mint year and denomination just below. The gold outer of the coin has the words LONDON OLYMPIC CENTENERY wrapped about the track edge.
The same year saw the release of the first of two Olympic handover coins, Beijing 2008 to London 2012. This was sold as a presentation pack including a Brilliant Uncirculated coin, on 19th December 2008 is was available direct from The Royal Mint website for just £6.80.
How did we do in the 1908 and 2012 Olympics? In 1908 Great Britain toped the medals table with 146 medals (65 gold), which was 3 times more medals that the United States in second. (10 nations took part). In 2012 with 185 nations taking part, Great Britain took third position with 69 medals (29 gold) behind the United States and China.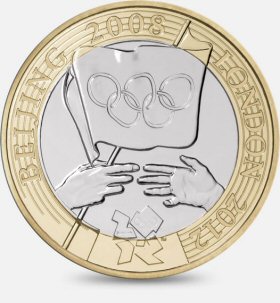 Coin Name:
2008 Olympic Handover Ceremony
Rare Rank:
5
Guide Value:
6.05
Checker Chance:
1 in 1388 coins
Circulation:
918000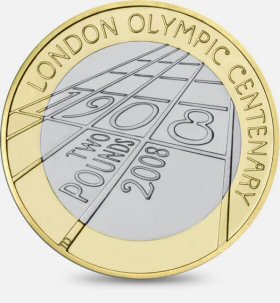 Coin Name:
2008 London Olympic Games of 1908
Rare Rank:
4
Guide Value:
5.50
Checker Chance:
1 in 1400 coins
Circulation:
910000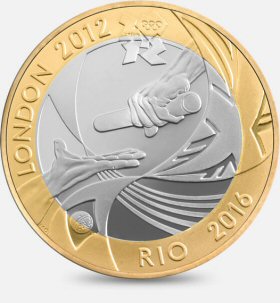 Coin Name:
2012 Handover to Rio
Rare Rank:
8
Guide Value:
6.05
Checker Chance:
1 in 1003 coins
Circulation:
845000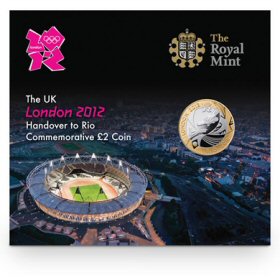 4 Years later is was all over on time to hand on the baton to Rio 2016, which was illustrated in the 2012 Handover to Rio coin. This coin was available from 13th August 2012 and could be pre-purchased as a presentation folder containing facts about the closing ceremony for £9.99 as at 17th July 2012.